by Adrienne Harvey, SrPCC, RKC-II, CK-FMS, Primal Move Nat'l Instructor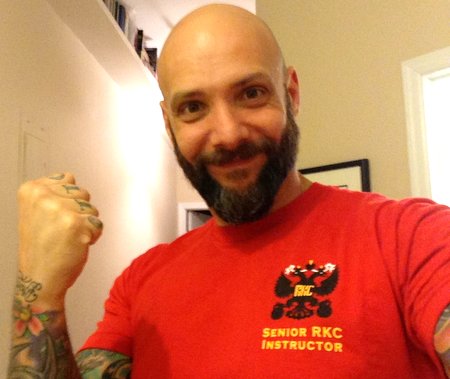 Dragon Door: You've been involved with kettlebells and fitness for quite a while, how did you get started in your fitness career?

Steve Holiner: Basically this is a second career for me. I grew up as a skate punk in Long Island so I was always active. I was never on any kind of team until I started at Five Points Academy, but I was into skateboarding and much later, BMX. I had to have a couple of surgeries because of skateboarding. I blew out my shoulder and after surgery and physical therapy I unfortunately did what most people do—as soon as it started to feel better, I stopped working on it. Soon after, I had my first kid and while carrying her, my shoulder started to hurt again. At that point I knew I had to make a change. So, I started going to the local gym at five in the morning and working out for an hour and a half. I just did what I knew at the time which was basically bodybuilding—back and bis, chest and tris—for six days a week. The gym and running got me into good shape and I lost a lot of weight, but I was spending a ton of time training.

Then I blew out my knee at the skate park. After that surgery, I healed much faster because I was in shape. As soon as I was cleared to exercise, my best friend from high school and I decided to try Muay Thai kickboxing at Five Points Academy. They also had kettlebells. I took a class and instantly fell in love with the kettlebell—I immediately knew I had been wasting time in the gym before now. Since I could get a great full body workout that kicked my butt in just 45 minutes with kettlebells, suddenly I had all that time back in my life.

It just really changed everything. Soon I was taking two kettlebell classes a week and three Muay Thai classes. Two months later, Five Points hosted an HKC workshop. I decided to do the HKC as a "civilian" to learn the get-up, improve my kettlebell swing and squat. Even though most of the other participants were trainers, I held my own. I just loved the get-up and the whole vibe of the workshop.

After going through the workshop certification process for the first time, I wanted to find out more about kettlebells, and other systems like TRX. I bought a TRX on Craigslist then saw they had a certification class coming up and did that too. I wasn't concerned about certifications, I just wanted to learn! One of my mentors from Five Points Academy, Gavin Van Vlack was also an RKC at the time and involved with Josh Henkin. He said that if I loved kettlebells then I also needed to check outUltimate Sandbags. These two implements play very well together. I signed up for a workshop Josh Henkin was teaching in the city about a month after the RKC I planned to attend in Philly (in 2010). So I signed up for it!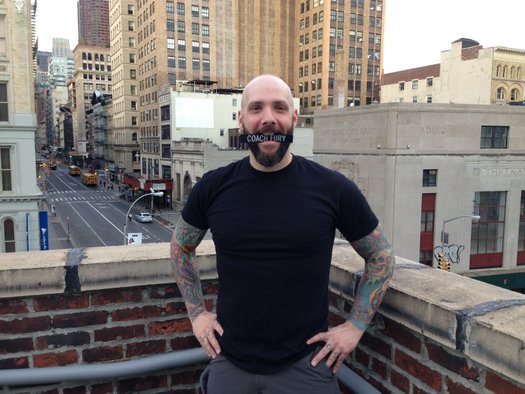 Originally, I had signed up with the New York Road Runners (a few weeks before I injured my knee) to try for a spot on the NY Marathon. Since I had to put that aside, I started to think of going to the RKC as my own version of the New York Marathon. Would I be strong enough to get through the weekend? Could I dial in my technique like I used to do with my skateboard tricks? At the time there wasn't as much information out there about the RKC Workshop on blogs or social media other than, "This thing is just super hard—be prepared!" In a way it was scary! I wanted to nail it, while learning as much as possible and having a good time too.

While I was preparing for the RKC, people began to suggest I start training others. I met up with my friend Keith Paine from Nimble Fitness and asked him if he had any advice. Keith's support encouraged me to talk to Steve Milles at Five Points Academy about it. Steve said if I passed the RKC, I could start leading a kettlebell class. So I passed the RKC on a Sunday and that following Monday I taught my first kettlebell class. It was a game changer for me, then a month later I took Josh's Ultimate Sandbag certification which was just as crucial.

At my first RKC I learned how to regress and progress the movements and teach people the kettlebell lifts. Then Josh helped me learn how to coach—and not just about kettlebells or Ultimate Sandbag—but how to progress the body for anything. Kettlebells and Ultimate Sandbags became my two big implements, I even stopped barbell training at that point. After finding out that a few people from Five Points Academy were going to the RKC-II, I decided to do it too!

So I went to the RKC-II and that's where we [referring to interviewer] met! But, I failed my half bodyweight press at the workshop which kind of crushed me, since I had at least five videos of me doing it on my phone! But for some reason, I just couldn't do it at the certification. The next day after the workshop, I landed in New York around noon. I went to work and taught class, but by 5:30PM I had posted my new testing video.
Then I took some time off from pressing that bell, but set up a challenge for myself so I could crush it next time. I came up with a six-week program that led me to a double 44kg press and pressing the Beast—which I thought was farther off in my future. Based on those results, I was asked to write my first article for DragonDoor.com. That article got my name out, and people began to reach out to me for advice—it's also how I met Ari Harris, a really good friend.

At that point, if Dragon Door had a workshop, then I did it! The CK-FMS was a massive game changer for me since I learned even more about how to assess, coach, and progress people. I did the Indian Clubs certification, which is now a huge part of my training and has helped me keep my shoulders nice and healthy. I did the Marketing Mastermind with John where I learned a ton and made some very good friends. It's been a great adventure for me. Eventually I asked if I could assist at an RKC workshop and pay back what my teachers and team leaders did for me. That was a great experience that opened up a bunch of different doors. Then I started training people who were working towards their own RKC certifications.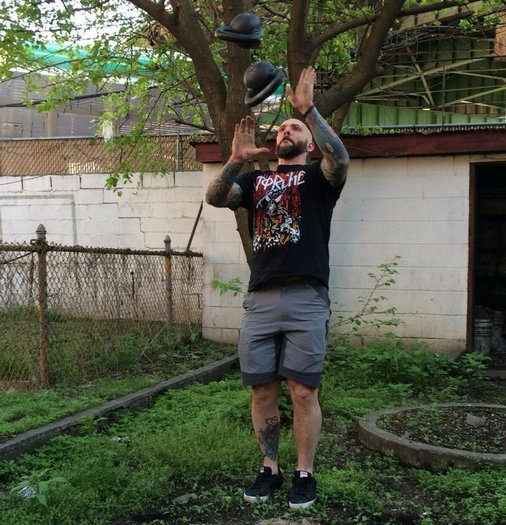 Dragon Door: How did you decide to change your career?

Steve Holiner: Slowly but surely my name got out there, and I started to consider training as a career, but I was still working full time in visual effects. I had gone to film school and tried many different random jobs in the industry—assistant talent agent, working in the shipping department of an editing company, and as a production assistant which eventually led me to getting into a job with an advertising company working on commercials and radio. Then I transitioned into visual effects as an executive producer. But after the RKC when I started teaching classes, I knew that I wanted to make training my career.

Three and a half years ago, I quit my job in visual effects and have been a full time trainer ever since. I was very lucky to have Five Points Academy as my main home for a very long time, and now I am at Mark Fisher Fitness which has been a dream come true.

I got started at Mark Fisher Fitness because Phil Ross had an emergency need for an assistant at an HKC. At the workshop, I hit it off with two of the participants—Jen Frankle and Adrian Couvillian who later contacted me about training for the RKC. They also told me about a crazy gym where everyone is super smart but kind of silly and that I would totally hit it off with the owner, Mark. They suggested that I ask about leading a workshop there. So I reached out to Mark and ended up teaching a get-up and snatch workshop at his gym. I was extremely impressed and inspired by Mark, his staff, and the members who were all very eager to learn.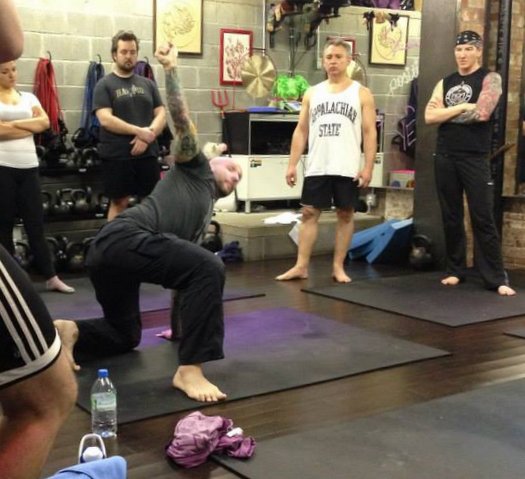 Several months later, I felt like it was time for a change. I emailed Mark to see what else we could do together, and within a week he wanted to know how soon I could start working at his gym. It was a huge decision to leave my fulltime position at Five Points, but my heart told me it was the right move. Even though it's a completely different environment and the way we teach is different—the classes are programmed and we do semi-private training instead of one on one—I have been able to get my hands into everything there. It's a great experience and I'm looking forward to seeing where we all go with this together. I'm also fortunate to continue with private training at Five Points and at Catalyst S.P.O.R.T.

Last year Josh promoted me to DVRT Master instructor. It's really great to teach more DVRT Workshops and be very involved with that program as well.

Dragon Door: What do you like most about combining kettlebells and Ultimate Sandbag training?

Steve Holiner: As a skateboarder I like simplicity. The idea of a heavy ball with a handle that delivers almost limitless possibility really appeals to me. I really enjoy the challenge of working on the techniques until I really own a kettlebell before moving up to a heavier one. I thrive on trying to get my skill level as sharp as possible—then seeing how heavy can I go!

Ultimate Sandbags add stability challenges and more movement through the frontal and transverse planes. Once you understand the DVRT system, there's a lot of creative freedom—which as a skateboarder, I appreciate! DVRT and RKC complement each other so well, and improve on each other with limitless potential. It's been exciting to be a part of both practices. If you are struggling with a kettlebell goal, there's often an Ultimate Sandbag drill which can help—and vise-versa.

I also like that with the Ultimate Sandbag, even if you are able to press a heavy weight, you might struggle with a 60lb sandbag that feels a whole lot heavier. Sandbags can be deceptive! Because of the way the USB is made and the handle placements, there's so much freedom of movement and so much you can do. And we're not talking about circus tricks, it's legitimate training. I have also found that when I've backed off on my USB training, I start to become more prone to injury!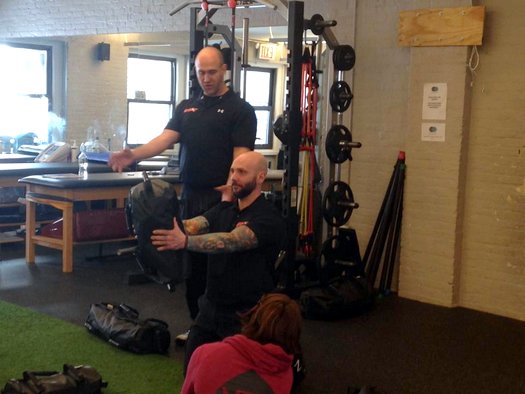 Dragon Door: Are you working towards any specific goals in your own training right now?

Steve Holiner: I need to have training goals and a program or I get lost! Right now I am doing a lot of barbell work along with Ultimate Sandbag, kettlebells and Original Strength (I like to crawl a lot). Recently, I wrapped up an 8-week powerlifting program that helped me get my Beast press back. Last year I had some back and thyroid issues that caused a big drop in strength, but this year I've got that mostly sorted out and finally got my Beast press back a few weeks ago. At the moment, I'm looking to crush a 450lb+ deadlift.

I'm also seeing a double beast press in the not so distant future. Having a training goal also helps me stay on point with my technique so that I'm sharp when I teach at an RKC or DVRT certification.

Though I always tend to have specific goals for myself, the real end goal is to simply be healthy, strong and move well. It's about longevity for me—I want to have an active life and be there for my kids and family.

Dragon Door: Many people can get distracted with different programs, as someone who knows a lot and uses many things, how do you stay focused?

Steve Holiner: I've had the unique opportunity to pursue only what I am passionate about. Luckily, that passion drew me toward things that work well together—there's a common theme of simplicity, movement, and progression. In the last few years, I realized that I needed to focus on just a few systems and learn them inside and out. I might have looked guilty of this at first too, but there are people who are trying to learn new systems and new implements on a weekly basis. You can learn so much that you realistically can't have enough time to practice and master any of it. So whether it's a certification or workshop, it's important to think about how much time on top of your daily life can you invest to own the material.

For the past couple of years, I have tried to assist and teach as much as possible so that I could watch other people teach, consistently test my skills, and help others on their journey.

Within the last year and a half I've really stayed focused on kettlebells, Ultimate Sandbag, and Original Strength. I figured that if it works for me, it will work for others, depending on their goals. I've become very good at seamlessly blending these systems in my programming as well. While it may seem like a big toolkit, all the tools are in the same basic pool. Now, when I add in something new, I add it in little by little. I want to keep learning how to do what I do better, instead of just learning new things to do.

My "desert island" lifts are deadlifts, swings, get-ups and crawling—everything else I do is aimed towards improving those basic patterns. My approach is to find the game-changing movement or tool for a given individual client and their goals. Now learning something new is super fun because I don't have to stress out about my basic systems. The systems are all are similar to each other—they beat from the same heart.

Dragon Door: Are you still skateboarding?

Steve Holiner: Not as much as I would like to, but only because of my schedule with kids and work. Now that I have kids, I have tried to teach them if they're interested in it. While I do miss it, the thrill ofmastering a technique or getting a lift has filled that void—and that's also my happy place.

I will be 42 next month, but still feel like a high school kid. I want to share that possibility with others. Whatever someone's reasons are for starting to train—fat loss, muscles, gun show, those abs—if you get them moving better, they will start to feel better. When we feel better, we gain the confidence to actually allow ourselves to look better. I help my clients build strength from the inside out. The RKC principles provide us the opportunity to take people through this journey—it's a gift. We're not just trainers or coaches, we are "Agents of Change". As professionals, we have the ability and responsibility to improve the lives of those we train.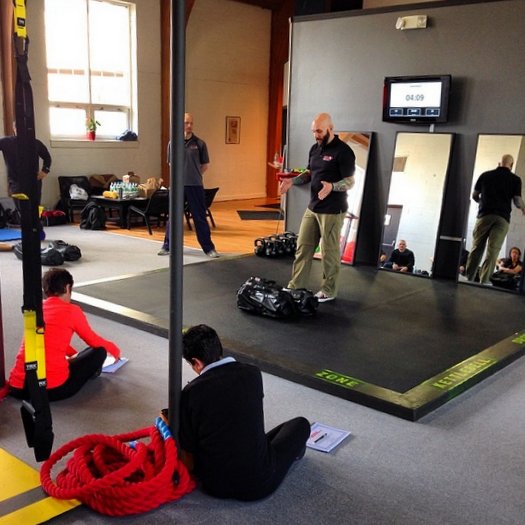 I want the RKC to grow. It's a personal mission of mine. It's a fantastic system that has helped me in so many ways. I want to share that with others so they can do the same. I also want folks to see just what an amazing monster the RKC/DVRT combo is. Throw in Original Strength and I'm a happy man. I still can't believe that I get to represent the systems that I love. It's a privilege I won't squander.
---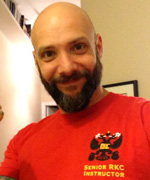 Steve "Coach Fury" Holiner, DVRT Master Instructor, Senior RKC, Original Strength Instructor, is a proud member of the Ninja Army training staff at Mark Fisher Fitness in NYC. Fury is available for classes, semi-privates, instructor training and programming at MFF. He also has availability for private training at Five Points Academy and Catalyst S.P.O.R.T. Check out www.coachfury.com,facebook.com/coachfury and twitter.com/coachfury for more info.
​